Brisbane Festival Art Boat Northshore
When Brisbane Festival's Artistic Director Louise Bezzina first visited the Northshore Brisbane precinct with her team, she was immediately excited by the area's potential.
'I was just completely inspired and said, "Oh yeah, we have to work here." It's a really industrial blank canvas that you just don't get access to regularly, so I really fell in love with it,' Bezzina said.
Once dominated by bustling wharves and maritime trade, Northshore Brisbane is now earmarked for development.
In 2032 the precinct will host the athletes' village for the Brisbane 2032 Olympic and Paralympic Games; well before that, it will be home to a purpose-built training centre for Flipside Circus, with plans for the site also incorporating start-ups, restaurants and private residences.
GETTING IT RIGHT
Urban development is easy to get wrong – Melbourne's Docklands precinct is still often derided as a windswept wasteland; a 'failed model of urban form … based on alienation, dominated by high-rise towers separating people from the street and each other,' to quote Michael Buxton, Urban Planning Professor at RMIT. But with provisions for arts and culture incorporated into the plans for Northshore Brisbane from the beginning, Bezzina believes the precinct has enormous potential.
'This is a State Government-owned precinct and there is a genuine commitment to enlivening the space through an arts and cultural lens, which I think is really commendable. The other thing that's critical with any new development is that there is a recognition of the First People – the stories of the land and the country, and that the appropriate protocols are put in place … Ensuring that there's a constant remembrance of those that came before us, and doing it respectfully is critical, I think, for any new development,' she told ArtsHub.
Sandra Neil, CBRE's Northshore Activations Manager, described the development along almost three kilometres of river frontage as 'the largest waterfront urban renewal project in Queensland'.
'We're thrilled to partner with Brisbane Festival this year to host the inaugural Brisbane Art Boat's multi-sensory installations Airship Orchestra and Sky Castle as well as the Queensland premiere of Dancenorth Australia's RED and welcome thousands of people to Northshore Brisbane,' Neil said.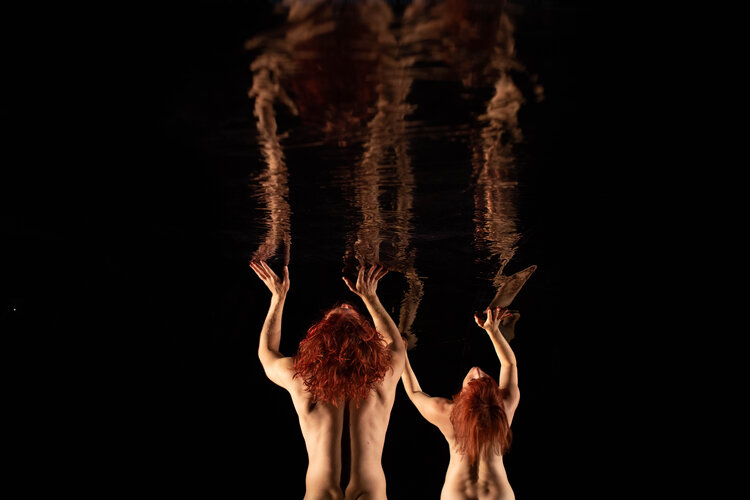 Additional large scale events, festivals and productions will be presented at Northshore Brisbane in the coming months, including Grande Experiences' Van Gogh Alive from 29 October.
'In early 2022, we'll open the newly landscaped Maritime Green and Performance Spaces which will include several performance and recreational spaces that will provide locals and visitors with a green space that takes in views of the city and the Brisbane River,' said Neil.
'Alongside Maritime Green, a new precinct is being created with the refurbishment and expansion of maker spaces, an upgrade of an existing warehouse into a town hall and event space, and new workspaces for small to medium enterprises.
'It's excellent to see Northshore Brisbane transition into a thriving hub of innovation, culture and community, and Brisbane Festival is a great way to showcase this,' she said.
With a 30-year timeline in place for the precinct's development, there's plenty of opportunity to get the development right – starting with Brisbane Festival's presentation of works this week.
Bezzina is especially excited by Brisbane's Art Boat, which she describes as 'an old working barge that has been transformed into a wonderland of pure magic.'
With the illuminated, inflatable artwork Airship Orchestra by art and technology studio ENESS installed on the boat, and additional performances by the likes of Opera Queensland, Jaguar Jonze and Briefs Factory programmed on board, the Art Boat is almost a floating festival of its own.
'It's quite an amazing venture,' Bezzina said. 'Just to experience the Brisbane River through an artistic lens was a really unique and memorable experience that I will hold close to my heart. And the great thing, I have to say, and what I had hoped would happen was when we were floating down the river – the people in the apartments or the passers-by would stop and go "Oh my god, what's that?" We had so many of those moments, so it's doing all of the things that I wanted it to do.'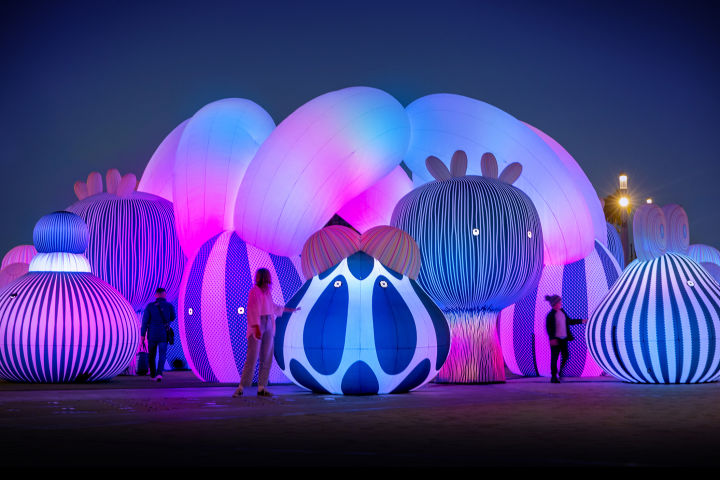 While the Art Boat visits Northshore Brisbane on one of its several loops along the river, contemporary dance company Dancenorth's new work Red is based at the precinct and performed in one of the old warehouses that once dominated the area.
Red, created and choreographed by Amber Haines and Kyle Page, uses the concept of the recessive gene that causes red hair in humans as a metaphor for the ever-shrinking biodiversity of our modern world.
'I'm really excited about this particular project, I have to say, and I'm excited because there is a lot of "bright and shiny" [work] in this festival … I was certainly leaning into a sense of optimism when I curated this program, and really leaning into a sense of community spirit and pride. Red is different to a lot of the shows in the festival. It really makes you consider what we're doing to our environment. It really makes you consider the fragility of this world and what we need to do to protect it, because time is running out – and these are really important questions to ask in a festival, and Dancenorth have done that in such a profound way,' Bezzina said.
The final Brisbane Festival work to be staged at Northshore Brisbane this year is Piano Burning. Curated by Lawrence English, it's a celebration of the reconfiguration of material, the transformation of objects, and the resulting multisensory 'performance' that ensues.
'Laurence English is one of my favourite artists and just such a treasure and this is going to be such a uniquely interesting project. This is Annea Lockwood's project, it's her baby, it's her idea. It was first done in London on the Thames and now to be doing it here in Brisbane is really exciting. And I think it'll look absolutely magnificent taking place in this industrial precinct by the Brisbane River.'
FUTURE ENGAGEMENT
Bezzina hopes that this year's program will be the first of many Brisbane Festivals to engage with Northshore Brisbane as the precinct develops.
'I look forward to a really long partnership with the precinct and with all of those involved. And I feel really optimistic about it, genuinely optimistic, because it's all been approached with the right energy from the beginning,' she said.
'One of the great thing that we've got to look forward to is the Olympics, which is happening in 11 years' time. This site has been earmarked as a key location for the Olympics, and so that provides an enormous opportunity.
'I really hope that Brisbane Festival can continue to play a role in helping to define the precinct, really showing what it has to offer as a genuinely interesting creative space. And the more we lean into creativity in any new precinct, the better,' Bezzina concluded.
Published: 6 Sep 2021, Richard Watts, Arts Hub